Oh my gosh! Did we just put mango in a burger? We sure did… and its AMAZING! These burgers are built with bean curry patty topped with a zesty chipotle sauce, mango slices and mixed greens served with a side of baked fries. We know you will enjoy every bite of this sun filled burger!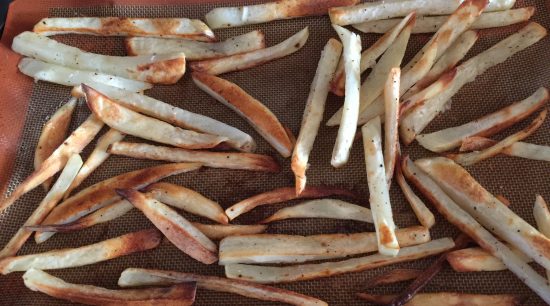 Bake the fries: Preheat the oven to 450F. Wash and rinse all produce.
Peel the potatoes and cut in fries shape, about 1/2 to 1 cm thick.
Place the fries on a lined baking sheet. Drizzle with oil, season with salt & pepper.
Place the fries in an even layer. Bake for 20 minutes.
Prepare & cook the vegetables: Cut the onion in small dices. Shred the carrots. Roughly chop the parsley.
In an oiled pan, add the onion and the carrots. Cook on medium heat for 5 minutes. Remove the pan from the heat and let the vegetables cool down.
Make & cook the patties: Rinse the pinto beans using a strainer.
In a bowl, add the drained pinto beans. Mash with a fork. Add the cooked vegetables, parsley, chickpea flour and spice mix, salt & pepper to the mashed beans. Divide the mixture into the number of servings and form patties.
Cook the patties 6-7 minutes per side on an oiled pan on medium heat.
Prepare the toppings: Peel and thinly slice the mango.
Warm up the buns: Cut the ciabatta buns in 2.

Place them on a baking sheet, cut side down. Heat the buns in the oven for about 1 minute. 
Assemble and serve: . Garnish each burger with the chipotle sauce, mango slices and mixed greens.

Serve with a side of baked fries and the rest of the chipotle mayo. 
2 portions
4 portions
6 portions
potatoes
carrot
onion
fresh parsley
pinto beans
chickpea flour & curry
chipotle mayo
ciabatta bun
mango
mixed greens
PELEE ISLAND GEWURZTRAMINER
Pale straw/yellow colour; floral, ripe peach, honey and lychee fruit aromas; off-dry, light to medium bodied, softly structured with balanced acidity, flavours of honeysuckle, rose water, pear, citrus and lychee; hints of spice on the finish.
Region: Ontario
Colour: White
Alcohol: 12.5%
Price (SLGA): $12.99
FOLONARI VALPOLICELLA DOC
Ruby red colour; light cherry and spice aromas; light bodied with soft berry flavours.
Region: California
Colour: Red
Alcohol: 12.5%
Price (SLGA): $14.84
MANGO 
Not only are mangos packed with flavor, but they are also loaded with nutrients. A one-cup serving contains just 100 calories, it provides 100% of your daily vitamin C, 35% of your daily vitamin A and 12% of your daily fiber.
The mango tree plays a sacred role in India; it's a symbol of love and some believe that they can even grant wishes.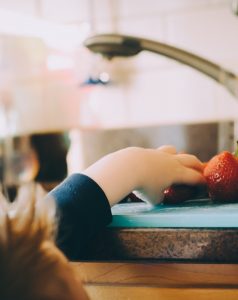 Cooking for kids?
Encourage the kids to try the chipotle mayo. This sauce is mildly spicy and can be a good way to introduce heat to children.
Making this recipe with kids?
Ask the child to help with step 3, 5 & 6:
form the patties
place the buns, cut side down on a baking sheet
Garnish their burger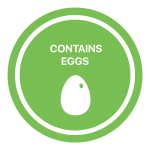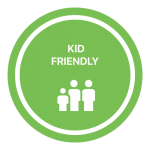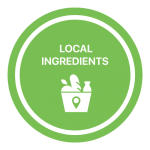 Note: We cannot guarantee any dish is allergen free. 
Plant Based:
potato

pinto beans

onion

ciabatta bun (flour, water, yeast, flaxseeds, sunflower seeds, sesame seeds, salt, wheat flakes, rye meal, millet, wheat bran, rye flour, sugar, corn flakes, poppy seeds, oat flakes, malted barley flour, soy grits, vegetable oil, datem, calium carbonate, caramel, ascorbic acid, amylase, xylanase, bacterial culture)

chipotle mayo (mayonaise (canola oil, water, liquid whole egg, vinegar, liquid yolk, salt, sugar, spices, concentrated lemon juice, calcium disodium edta), chipotle & lime hot sauce (White vinegar, apple cider vinegar, onion, chipotle pepper, jalapeno pepper, thai chili pepper, lime, garlic, salt, brown sugar, kaffir lime leaves), liquid smoke, spices)

mango

mixed greens

carrot

fresh parsley

chickpea flour & curry

love
Vegan adaptations:
chipotle mayo – vegan: veganaise (expeller-pressed canola oil, filtered water, sugars (brown rice syrup, lemon juice concentrate), apple cider vinegar, soy protein, sea salt, mustard flour), chipotle & lime hot sauce white vinegar, apple cider vinegar, onion, chipotle pepper, jalapeno pepper, thai chili pepper, lime, garlic, salt, brown sugar, kaffir lime leaves), liquid smoke, spices
Gluten friendly adaptations:
ciabatta bun – gluten friendly:  Water, potato starch, chickpea flour, soya flour, brown rice flour, flaxmeal, cellulose, sunflower oil, yeast, rice syrup, grape juice, potato fibre, natural flavour, sea salt, xanthan gum, cultured rice flour, cultured brown rice, brown rice, white distilled vinegar, sodium bicarbonate, sodium acid pyrophosphate
Weight Watchers Smart Points