Its pizza night! This ratatouille pizza packed full of summer vegetables will take care of all of your pizza cravings without you ever having to reach for the phone. The naan bread crust is topped a flavourful tomato sauce and loaded with roasted zucchini, onion, and mushrooms then topped with savoury prosciutto and shaved parmesan. There's even a light balsamic and olive oil arugula salad on the side.

No Red meat note: To replace to pork procuitto, your kit includes artisanal deli chicken slices.
Gluten Friendly note: The gluten free pizza dough is too big to fit in the pizza box and is in your bag. Please keep the dough refregirated. 
Pro tip: put the dressed arugula on your pizza for an amazing contrast of hot and cool.
Prepare the vegetables:  Heat up the oven to 400F. Rinse and dry all produces. Cut the onion, eggplant, and mushroom in thin slices of about 1/2 cm thick. 
Cook the vegetables: Place the onion, eggplant, and mushroom slices on a baking sheet lined with parchment or non stick liner. Drizzle the vegetables with oil (1/2 tsp, 1 tsp, 1 1/2 tsp) , sprinkle with salt (¼ tsp, 1/2 tsp, 3/4 tsp) and pepper (1/8 tsp, 1/4 tsp, 1/2 tsp). Cook for about 12 minutes in the oven or until the vegetables are cooked through and are starting to become golden.
Prepare the toppings: While the vegetables are cooking, shred the prosciutto in about 2 to 3 cm pieces. Finely chop the oregano.  Use about (1/2 tsp, 1 tsp, 1 1/2 tsp) oregano.  Remove the pits from the black olives. 
Cook the pizza: When the vegetables are cooked, place them in a bowl and drizzle them with half  the balsamic dressing. Place the naan bread on the baking sheet. Top each naan bread with tomato sauce, cooked vegetables, and oregano. Cook the pizza in the oven at 400 for about 5 minutes.
Gluten-Friendly: Use Gluten Free Pizza dough* instead of the naan bread. Bake about 8-10 minutes.
*Gluten Friendly 2 portion plan note: the Gluten Free Pizza dough is inside your delivery bag as it is too large to fit inside the meal box.
Assemble the dressed arugula: In a medium bowl, place the arugula and the other half of the balsamic dressing. Combine to coat the arugula with the dressing. 
Garnish and serve: Place the balsamic dressed arugula on top of each pizza, top with shaved parmesan, black olives and prosciutto. Serve.
2 portions
4 portions
6 portions
naan bread
onion
mushroom
eggplant
oregano
tomato sauce
arugula
proscuitto
balsamic dressing
parmesan
black olives
GF Pizza crust
MUSHROOMS
Mushrooms can produce their own vitamin D from the sun (just like us!) Leaving 3oz of sliced mushrooms in direct sun for 15 minutes gives you 200-800iu of vitamin D!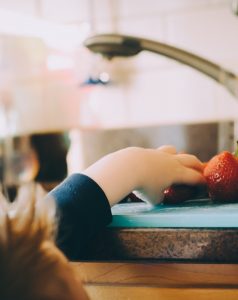 Cooking for kids?
Feel free to go easy on the prosciutto  as children may not like its flavour. Feel free to slowly introduce new vegetables to children. 
Making this recipe with kids?
Ask the child to help by completing step 5 & 6.
Assemble the dressed aregula
Garnish and serve
CAMPO VIEJO TEMPRANILLO
Medium ruby in colour with a hint of garnet; the aromas entice you with notes of juicy red berry fruits, leather, vanilla and cloves; on the palate it is extra dry, medium-bodied and ripe with flavours of raspberry, cherry, vanilla and sweet spices.
Region: Rioja, Spain
Alcohol: 13%
Price (SLGA): $15.99

SAWMILL CREEK SAUVIGNON BLANC
A crisp, dry wine with notes of citrus fruit, herbs and a hint of oak.
Region: Canada
Colour: White
Alcohol: 12%
Price (SLGA): $10.09

Note: We cannot guarantee any dish is allergen free.