Our new favourite cookies are these super chewy cookies! We are excited to share the tips we have learned to make the perfect super chewy cookies with you.
If you prefer to make super chewy cookies with no mess and weighted ingredients for perfect results everytime: Get your CookieKits.
In this blog you will find:
Super chewy cookies tips
Role of ingredients in cookies
3 ways to serve Easter cookies
Triple chocolate cookie recipe
Measuring the ingredients
Baking is chemistry. Measuring ingredients correctly is important to respect the chemistry of the recipe. 
Some ingredients are easy to measure and rarely cause issues:  White sugar, vanilla, baking soda. With these ingredients you can ensure to have the correct amount of ingredient by leveling off the measuring spoon or cup with a butter knife.
Other ingredients can be problematic:
Brown sugar: Measure brown sugar by lightly compacting it in the measuring cup.
Flour: The way flour is placed in the mesuring cup can make a large difference in the amount of flour used. Best practice to measure flour is to lightly fluff the flour with a spoon and spoon the flour in the measuring cup. Level off the flour with a butter knife. 
Butter: Measure butter using the measurement marks on the side of the wrapping paper. This ensures there is no air bubbles in the measuring cup.
Let the eggs and the butter warm to room temperature on the counter for an hour or so before making the cookies.
Room temperature eggs are more stable and incorporate more air into the cookies.
Room temperature butter combines better with the other ingredients which contributes to creating super chewy cookies
Each oven is different. There may be 5 to 10F difference between the desired oven temperature and the actual temperature. These cookies bake between 7 and 10 minutes. To find out how long they need in your oven, check them at the 7 minute mark. If the cookies are risen and not shiny in the middle, they are ready. If they are still shiny, bake them 1 to 2 minutes more and check again. For super chewy cookies, ensure to not over bake them.
Baking is chemistry. Each ingredient plays a key role in creating cookies' texture and flavour.
Brown sugar provides flavour and moisture to the cookies.
White sugar helps to incorporate air in the butter to create a thicker cookie.
Butter provides flavour and contributes to the chewy texture of the cookies.
Oil ensures the cookies are super chewy by adding lots of moisture in the cookies. This moisture keeps the cookies chewy for days.
Eggs contribute to incorporating air in the butter and rising the cookies once they are baking.
Salt enhences flavours. Adding salt to cookies makes the cocoa taste more instense, brings out the richness of butter and the caramel flavour of brown sugar.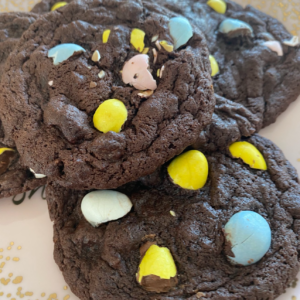 Easter triple chocolate cookies
What's better for Easter than the most chocolaty cookies? These cookies have lots of cocoa powder for a fudgy and intense chocolate flavour, chocolate chips for creamy chocolate and minieggs to satisfy any Easter miniegg addiction. 
Prep Time

7 Minutes

Cook Time

8 hours

Total Time

15 Minutes

makes

18 (1/4 cup) cookies cup
Ingredients
1 1/2 cup all purpose flour

1/2 cup cocoa powder

1/4 tsp salt

1/2 tsp baking soda

3/4 cup unsalted room temperature butter

1/2 cup sugar

3/4 cup brown sugar

2 eggs

2 tbsp vegetable oil

1/3 cup chocolate chips

1/3 cup mini eggs - coarsly choped
Instructions
Heat the oven to 375F. In a bowl, combine the flour, cocoa, salt, baking soda and chocolate chips.
In a second bowl, combine the butter, sugars and oil with an electric mixer. Add the 2 eggs. Mix with the electric mixer for 5 minutes.
Add the dry ingredients to the egg mixuture. Combine on low speed with the electric mixer or with a wooden sppon.
With an ice cream scoop, place dough balls (1/4 cup) on baking sheet lined with parchment paper. Place 6 cookies on a baking sheet. Decorate each cookie with pieces of mini eggs.
Bake the cookies at 375F for 7 to 10 minutes or until fully cooked but still a bit soft in the middle.