Sugar cookies cookies make for a fun family baking day. Use any shape cookie cutter you want and decorate to your heart's desire. Baking as a family is one of the most memorable moments. Share laughter with a dusting of flour on your nose and your hands full of cookie dough. 
Cream butter,egg & sugar:  Preheat oven to 350 F. Place two racks in the middle of the oven. Line two baking sheets with parchment paper.
In a bowl add the butter (1 cup) and the sugar. Mix with an electric mixer on medium speed about 3 minutes. Add in the egg (1) and vanilla. Mix until combined. 
Add the flour mix: Slowing incorporate the flour mix to the butter mixture with the help of the electric mixer. The dough will become very stiff. If is becomes to stiff for your mixer, place the dough onto a counter top surface. Wet your hands and finish off kneading the dough with your hands.  
Note: Do NOT chill the dough.
Roll the dough: Lightly flour the counter.  Divide the dough in 4. Place 1 ball of dough at a time on the lightly floured work surface. Dust flour on the dough. Roll the dough to about ¼ – 1/8 inch thick. Dust more flour onto the dough if it is sticking to the roller. 
Cut the dough & bake: Cut the dough with the help of a cookie cutter and transfer the cookie onto the parchment lined baking sheet. Use a spatula if necessary. Gather the dough scraps and knead into a ball, then roll out and cut again, adding more flour as necessary. Repeat until scraps are used up. 
Bake the cookies for 6-8 minutes or until they feel firm. Let the cookies cool on the baking sheet for 5 minutes until set, then transfer to a rack to cool completely.
Make the icing & decorate:  While waiting for the cookies to cool, place the icing sugar in a small bowl. Add the water or milk about 1 tbsp at a time, combining between each addition, until the icing is soft. You can place the icing in a small piping bag or use tooth picks to decorate the cookies. 
When the cookies are cooled, decorate using a tooth pick or small piping bag. Let the icing set and store the cookies in an airtight container. 
Included
36 cookies
Sugar
Flour mix: flour, baking powder, salt
vanilla
Icing sugar
egg
unsalted butter
milk or water
flour for dusting
Making this recipe with kids?

Ask the child to help by completing steps 1, 2, 4 & 5.
Cream butter, egg & sugar
Add the flour mix
Roll the sough
Cut the dough
Make icing & decorate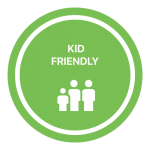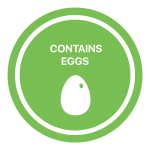 Note: We cannot guarantee any dish is allergen free.