We've taken everything that's delicious about the Mediterranean to bring you this easy, nourishing pita. This pita is filled with warm Lebanese spices, creamy garlic and lemon sauce and tangy pickled beets. This dish is ready under 25 minutes and will be a show stopper at the table tonight! 
Featured Saskatchewan Products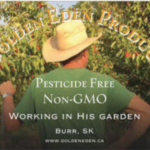 Roast the chickpeas: Preheat the oven to 375F.

On a lined baking sheet, place the chana chaat chickpeas. Season with salt and drizzle with oil. Bake until the chickpeas are slightly crispy, 10 to 15 minutes.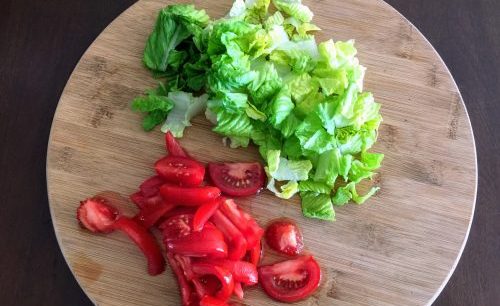 Prepare the vegetables:   Rinse and dry all produces. Cut the tomato in half then in thin slices. 
Make the lemon garlic sauce: Zest the lemon and juice it.
Place the yogurt garlic sauce in a bowl. Add lemon zest 1/8 tsp(2p), 1/4 tsp(4p), 1/2 tsp(6p) and lemon juice 1 tbsp(2p), 2 tbsp(4p), 3 tbsp(6p) to the yogurt garlic sauce. Season with salt & pepper.
Heat the pita: Preheat a pan on medium-high. Place a pita in the pan. Sprinkle a few drops of water around the outside of the pita.
Cover the pan with a lid. Heat the pita for 20-30 seconds on each side. Place in a towel to keep warm. Heat the other pitas.
Fill the pita: Place the romaine and tomato on each pita. Add the chana chaat chickpeas, the yogurt garlic sauce and the pickled parsnips to the pita.
Serve: Roll up the pita, cut in half and serve.
2 portions
4 portions
6 portions
Chana Chaat Chickpeas
yogurt garlic sauce
romaine lettuce
tomato
pita
pink pickled parsnips
lemon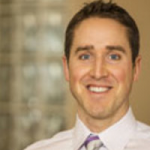 Dr. Craig Herrington, Nathuropath
TOMATO
Tomatoes are the greatest source of lycopene, a potent antioxidant that is important for mens prostate health and for heart health.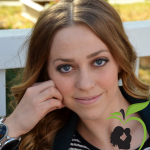 Lacey Engel, Registered Dietitian
YUM FOODS 
Serve "yum" foods with new food. When your child sees food they recognize it mayentice them to explore other, new foods too.
RECIPE TIP 
Introduce new flavours slowly to children. You can encourage children to try the pink pickled turnip and add it to their pita if they want. It may take many exposures for a child to learn to like a new flavour or texture.
MAKING THIS RECIPE WITH KIDS? 
Ask the child to help by completing step 4 & 5:
Place the vegetables in the pita & finish the sauce
Finish filling the pita
Heritage Road Bloodstone Shiraz Grenache
Aromas of black pepper, blueberry and plum fill the glass. Flavours of ripe fruit, mulberry and blackberry finished with spicy pepper and creamy vanilla oak characters. This balanced shiraz shows rich fruit characters, a medium body and good persistence
Region: South Autralia
Colour: Red
Alcohol: 13%
Price (SLGA): $14.65

Living sky winery Rhubarb
Mellow earthy rhubarb with a delightfully light, lemony touch.
Region: Perdue, SK
Colour: White
Alcohol: 12.7%
Price (SLGA): $23.30

Yogurt garlic sauce

: greek yogurt, garlic, cumin, coriander, salt.
Chana Chaat chickpeas: chickpeas,

cumin,

paprika,

cardamom, ginger

cinnamon,

turmeric, coriander, black pepper.

Pickled turnips: Turnips, beets, vinegar, salt (Amados – Regina).
Pita: Medium whole wheat pita (Amados – Regina).
Lettuce
Tomato
Lemon
No dairy adaptation: 
Yogurt garlic sauce

: coconut milk, garlic, cumin, coriander, salt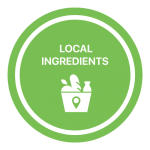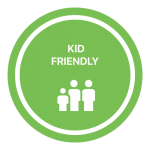 Note: We cannot guarantee any dish is allergen free. 
Weight Watchers Smart Points