This beautiful sunshine filled bowl is the perfect supper during a hot summer day. This Thai bowl is filled with red cabbage, carrots, broccoli, brown rice, lime and is topped with a beautiful green curry coconut lime dressing and cilantro. This recipe is super easy and delicious during a warm day. 
Featured
Saskatchewan
Products
Prepare and cook the rice: In the sink, place the rice in a strainer and rinse it well.  In a pot, add the rice, water (1 1/2 cup, 3 cup), salt (1/8 tsp, 1/4 tsp) and pepper (1 pinch, 1/8 tsp)and stir. Bring to a boil on high heat. Reduce the heat to medium/low, cover and cook 25 minutes or until the water is absorbed and the rice is tender. Remove the pot from the heat and set aside.
Prepare the vegetables: Wash and rinse all produce. While the rice is cooking, cut the broccoli in about 2 cm bites and shred the carrots. 
Get the stink out of here! Broccoli and cabbage can stink! To reduce the smell, run cold water and open your broccoli and cabbage bags under the running cold water.
Prepare the lime and cilantro: Cut the lime in 6 segments and separate the cilantro leaves. 
Finish the rice: Once the rice is cooked, remove the pot from heat and fluff the rice with a fork. 
Assemble & Serve: In individual bowls place the cooked rice, the spinach, broccoli, carrots & red cabbage.Drizzle each bowl with about 3 tbsp of green curry coconut vinaigrette. Garnish with lime segments and cilantro leaves. Serve.
Note: this dish is also delicious the following day. Add the dressing just before service to ensure the vegetables stay crunchy.
Included
2 portions
4 portions
brown rice
spinach
carrots
broccoli
red cabbage
lime
cilantro
green curry lime coconut vinaigrette
water*
salt*
pepper*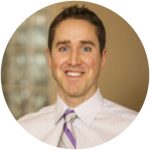 Dr. Herrington's
Health Fact
BROCCOLI
Cruciferous vegetables such as broccoli, contain sulforaphane and indole-3-carbinol that have been shown to reduce the incidence of premenopausal breast cancer.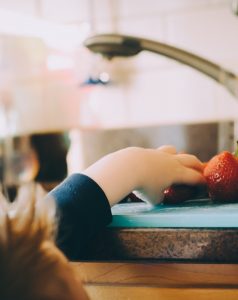 Cooking for kids?
Feel free to slowly introduce new vegetables to children. 
Making this recipe with kids?
Ask the child to help by completing step 5.
COPPER MOON CHARDONNAY
A lemon yellow coloured wine with aromas of ripe apple, pear, pineapple and a touch of floral. It is a soft, medium-bodied wine with flavours of ripe stone fruit and a touch of citrus on the finish.
Region: British Columbia, Canada
Colour: White
Alcohol: 13%
Price (SLGA): $11.13

JP CHENET RESERVE PINOT NOIR
Raspberry and cherry aromas with a touch of spice. A red berry flavour with a medium finish.
Region: France
Alcohol: 12%
Price (SLGA): $15.04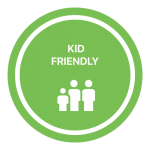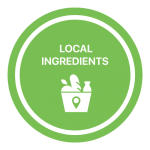 Note: We cannot guarantee any dish is allergen free.