Fudgy chocolate crinkle cookies have an irresistible brownie textured center, with a crunch of cookie on the outside! They are delicious enjoyed beside a fire with a glass of cold milk playing a game of Monopoly!  Happy baking 🙂  
Mix the sugar, cacao, egg, oil & vanilla: In a bowl, add the sugar & cacao powder mix, vegetable oil (1/4 cup) and the vanilla with an electric mixer until combined. Add the eggs (2), one at a time until fully incorporated. 
Add the Flour mix: Add the flour mix into the chocolate mixture. Combine just until a dough forms (do not over mix).
Cool the dough:  Wrap dough in plastic wrap and cool the dough in the freeze for 1 hour or refrigerate at least 4 hours or overnight.
Note: Cooling the dough will result in crinkled cookies. 
Roll in icing sugar: Preheat oven to 350 F. Place rack in the middle of the oven. Line 2 baking sheet with parchment paper. 
Place the icing sugar in a small bowl. 
Measure cookies with 1 tbsp measuring spoon.  Place each dough ball in the icing sugar and roll to coat evenly. Place each cookie on the lined baking sheet. 
Bake: Bake in preheated oven for 10 minutes. The cookies will come out soft from the oven but will harden up as they cool. Allow to cool on the cookie sheet for 5 minutes before transferring to wire racks to cool.
Included
20 cookies
Sugar & cocoa powder
vanilla
Flour mix: flour, baking powder, salt
Icing sugar
vegetable oil
egg
Making this recipe with kids?

Ask the child to help by completing steps 1, 2 &  6.
Mix the sugar, cacao, egg, oil & vanilla
Add the flour mix
Cool the dough
Roll in icing sugar
Bake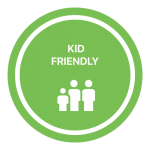 Note: We cannot guarantee any dish is allergen free.