What is Flat Out Delicious?
Flat Out Delicious is a valuable travel book that takes us on a journey to meet Saskatchewan's farmers and producers. This book captures the stories and values of Saskatchewan's resilient and inspiring farmers and producers. Through their stories and beautiful photography, we are taken behind the scenes, into the fields, kitchens and backstores of each food artisan. This book reveals the breadth and depth of Saskatchewan food landmarks. Each story is an opportunity to fall in love with our local culinary artisans.   
Through this book we discover Saskatchewan's varied personalities and culinary experience. These 167 stories cumulate into this beautiful expression of Saskatchewan's nickname: Les grenier du monde, the world's attic. From grain fields that expand as far as the eye can see to northern boreal forest, Saskatchewan is home to one of Canada's most unique food systems. Saskatchewan's farmers and producers have been rising quietly for decades; Flat Out Delicious is a tribute to their legacy. 
Picture by our beautiful cousin and friend Myriam @the.farm.folk 
Our little cousin, Asher, and Zina are enjoying the sun after a long rain.
Why we love Flat Out Delicious
We received our book less than 10 days ago and are flat out in love with it! We expected a lot from this book and have received way more than we could have hoped for. 
The main reasons we have such a strong connection with Flat Out Delicious are:
It aligns with our roots

It tells the story of ZestyKits' stars 

It bring awareness to the value of eating local 

It is truly a labour of love
Aligns with ZestyKits' Roots
Picture by our dear friend and cousin Myriam @the.farm.folk 
Havilah playing in her "bean house". It's the little memories that will last a lifetime. 
Growing up with a French background, our parents raised us with artisanally produced simple ingredients. We lived across the road from an artisanal vegetable and fruit farm which we visited regularly to buy seasonal produce. Our parents promoted the importance of knowing where our food comes from, to eat the best quality ingredients produced as close to home as possible. They helped us understand that our wealth is our health while money comes and goes. Even though we grew up with limited resources, our parents always supported artisanal farmers and producers. They raised us with a deep respect for food and understanding of the impact it has on our personal health and on our community's health. 
Picture by our dear friend and cousin Myriam @the.farm.folk 
Our mother and Myriam's mother both had this bread knife since before we were born. This bread knife reminds us of the smell of warm breads our mothers made.
Artisanal food production is in our blood; from the dairy farm on which our mother was raised to the strawberry fields our great uncle harvested until his 96th birthday. Our parents artisanally raised bees and chicken for our family and dreamt of, one day, owning an artisanal farm. They value learning the stories of the farmers and producers behind each ingredient. Growing up some of our best memories include picking raspberries under the hot sun of June and apples with the cold breeze of September. We remember visiting artisanal farms including cheese, vegetables, berry, honey, goat, and ostrich farms. We fondly remember meeting the farmers, hearing their stories, meeting the animals, feeling the dirt between our toes, smelling the fresh air and tasting the delicious food. Food nourishes more than our bodies, it nourishes our soul, it nourishes our community. 
Picture by our dear friend and cousin Myriam @the.farm.folk 
"In an age of speed, I began to think, nothing could be more invigorating than going slow.
In an age of distraction, nothing can feel more luxurious than paying attention.
And in an age of constant movement, nothing is more urgent than sittling still" – Pico Lyer
When we moved to Saskatchewan from Quebec, we learned to know farmers and producers that give this province the nickname of les grenier de monde, the worlds' attic. It is through taking the time to truly feel and experience Saskatchewan over the past 20 years, that the land of living sky became part of our soul. 
Picture by our dear friend and cousin Myriam @the.farm.folk 
Our little cousin, Asher, planted the corn in the background himself.
We created ZestyKits to empower families to come back to the roots, to reconnect with food, to get to know their producers, to discover delicious food farmed and produced with love.
Picture by our dear friend and cousin Myriam @the.farm.folk 
"You know you love your chicken when you watch them play in the yard more than you watch tv" – Myriam
Picture by our dear friend and cousin Myriam @the.farm.folk 
The ladies enjoying the mild weather in early March.
Jenn's book tells the stories of many farmers and producers who are the stars behind every ZestyKits meal. We strongly encourage you to, not only read the book, but also use it as a travel guide – once physical distancing ends. Go visit the farmers and producers of Saskatchewan's food, go meet the friendly faces behind the food you eat, go feel the dirt between your toes, go smell the fresh air. You will discover a new love and respect for food as well as the farmers and producers behind it. 
At ZestyKits we believe supporting local farmers is supporting health. If we are what we eat, understanding where our food comes from and valuing high-quality local food is a priority.  As Jenn eloquently said in Flat Out Delicious, we believe the key factor when it comes to personal health, sustainability and community economic health is the way our food is grown, raised and how far it travels. As Jenn does in Flat Out Delicious, we encourage you to be curious about the history of your food. Similarly to many important choices such as a trainer, hairdresser, house builder or insurance company; our daily food choices have a significant impact. Our daily food choices impact our personal health and our community health. We encourage you to think of food not as fuel for our bodies but as an investment in our health and our communities. These daily choices are building Saskatchewan's vibrant future food system.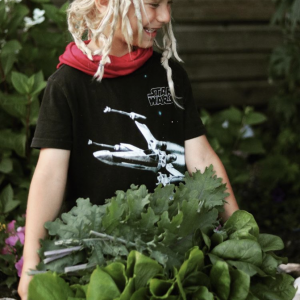 Picture by our dear friend and cousin Myriam @the.farm.folk 
Asher is having fun in the garden and smiling at his little sister who brings powdered doughnuts. Life is about the little pleasures. 
Picture by our dear friend and cousin Myriam @the.farm.folk 
Havilah holding a spring chick on her heart. 
Between the lines of each artisan's story, we can feel the author's love for the community and her joy to share Saskatchewan's food history. Through the lines of Flat Out Delicious we can feel the passion of the pioneers who create Saskatchewan's food ecosystem. From thriving as multi-generational farmers, to producers who recently left corporate jobs to pursue their dream, Saskatchewan's food ecosystem is broad, thriving and growing. Reading each story inspires pride for Saskatchewan and demonstrates how bright Saskatchewan food's future is. 
Having had the pleasure to get to know Jenn Sharp, we consider her a kindred spirit and a dear friend. Her passion and love for Saskatchewan's farmers and producers is contagious and a joy to see. For five years, Jenn was a featured writer, columnist, and editor at the Saskatoon StarPhoenix. She currently writes the Flat Out Food column for the StarPhoenix and the Regina Leader-Post. Jenn is a regular contributor to CBC Saskatchewan and Eat North as well as has been featured in a variety of Canadian publications.
Picture by Richard Marjan
Photo credit: http://moore4mayor.ca/endorsements/richard-marjan-endorses-kelley-moore-for-mayor/
Richard Marjan's photography throughout Flat Out Delicious speaks volume to his talent as a photographer. They say a picture is worth a thousand words; this is especially true of the photographs found in this book. Each photo beautifully represents the story of Saskatchewan's food history, they take us on a journey with them. Richard is an award winning retired photojournalist for the Saskatoon StarPhoenix. His work appeared in Canadian Geographic, the New York Times, and the Globe and Mail.
The beautiful photography in this blog is by @the.farm.folk
Myriam is our dear friend and cousin. She is raising two amazing children with her husband on their farm in Northern Saskatchewan. Our mothers were sisters and best friends. We grew up as sisters than more cousins and moved to Saskatchewan within a week of each other. It is such a joy for us to share her photography and a glimpse of her life with you.