Truffles are classic and decadent treats everyone loves. They are quite simple to make, and the process will be more fun if you have a friend to help you. Waiting for the cooling time to be over is the hardest thing in this recipe. Children love rolling these delicious chocolate wonders almost as much as eating them. They are amazing with a cup of hot chocolate or a glass of red wine. 
It's the most wonderful time of the year!
Melt the chocolate: In a microwave safe medium bowl, add the sweetened condensed milk and the chocolate. Heat in the microwave in 30 second increments. Mix with a spoon in between each 30 seconds to not over heat the chocolate. Chocolate can easily burn in the microwave. Combine until smooth. 
Add the vanilla: Add the vanilla to the melted chocolate. Refrigerate, covered, 2 hours or until firm enough to roll.
Crush the candy cane: Using a rolling pin, crush the candy cane in its wrapping. Remove the wrapping and place the candy cane crumbs in a bowl.
Roll the Truffles: Using 1/2 tbsp spoon or a metal spoon about that size, measure the cooled truffle dough. Roll each truffle and set aside in a clean bowl. 
Coat the truffles:  Place the cacao powder in a small bowl. Roll each truffle in either the candy cane crumbs or the cacao powder.
Included
12 truffles
semi-sweet chocolate
sweetened condensed milk
vanilla
candy cane
cacao powder
Making this recipe with kids?

Ask the child to help by completing steps 2, 3, 4 & 5
Add the vanilla
Crush the candy cane
Roll the truffles
Coat the truffles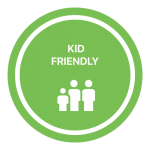 Note: We cannot guarantee any dish is allergen free.