Nanaimo bars are a Canadian Christmas staple!  This iconic recipe comes straight from the heart of Nanaimo, B.C. This buttercream custard filled bar is a sweet-tooth's dream! This delicious bar requires only 20 minutes of preparation time, leaving you plenty of time to eat them by the fireplace wrapped up in a warm blanket. 
"Seeing is believing but sometimes the most real things in the world are the things we can't see."
Combine butter, carnation and sugar:  Line an 8″ x 8″ baking dish with parchment paper. Use 2 pieces of paper of about 7.5″ x 12″ to cover all sides of the pyrex mold. 
Place about 3 inches of water in a medium pot. Bring to a boil on medium heat. Place a glass bowl a bit larger than the pot on top of the boiling water to create a double boiler.  Add the unsalted butter (1/2 cup) and sugar & cocoa powder to the bowl and melt together.  Add the egg (1) to the cacao mixture and stir until the mixture becomes thick and stays in a ball.
Note: Keep the water boiling in the pot since you will need the double boiler for the third layer. 
Finish the first layer: Remove the cacao mixture from the heat. Add the nut mix and stir in until combined. Press the mixture in lined 8″ x 8″ baking dish.
Make the second layer: In a medium bowl, add unsalted butter (1/2 cup), the cream 35% (2 tbsp + 2 tsp) and mix with the electric mixer. Add the icing sugar mix to the butter and beat until light. Spread over bottom layer in the 8″ x 8″ baking dish.
Make the third layer: Rinse the glass bowl used in the double layer on the first layer. Ensure the water is boiling. Place the bowl on top of the water and add the chocolate chips and unsalted butter (2 tbsp) to the bowl. 
Pour the third layer:Let cool for about 3 minutes, cool but still liquid. Pour the chocolate over the second layer.
Cool & cut the squares: Let chill in refrigerator for about 20 minutes. Cut the Nanaimo into 18 bars.
Included
16 squares
sugar & cocoa powder
Nut mix: graham wafer crumbs, coconut flakes & almonds powder
Confectionery sugar mix: confectionery sugar, vanilla custard powder
chocolate chips
egg
cream 35%
unsalted butter
Making this recipe with kids?

Ask the child to help by completing step 2, 3, 5 & 6.
Finish the first layer
Make the second layer
Pour the third layer
Cool & cut the square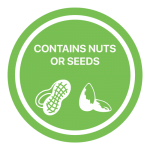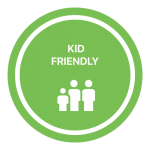 Note: We cannot guarantee any dish is allergen free.