Take a big bowl of this salad and taste the first garden vegetables of the season! This salad is filled with asparagus. sugar snap peas, radishes, fresh parsley and finished with our signature zesty lemon dressing and a delicious walleye filet. This spring salad is filled with hardy quinoa and Walleye that will give you loads of proteins and fiber. 
Note: the original receipe is made with dill but it was unavailable this week and was substituted with parsley.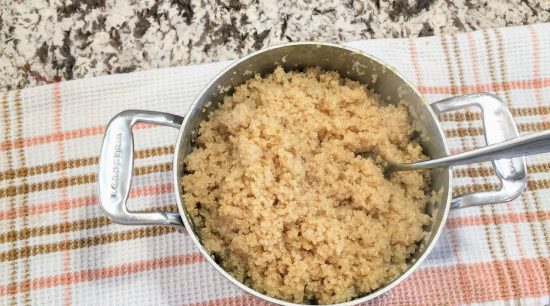 Prepare and cook the quinoa:  Turn on the oven to 375 F to cook the asparagus.
Add water (4 cups, 8 cups, 12 cups) to a medium pot. On high heat, bring the water to a boil. Place the quinoa in a strainer and rinse well. Once water is boiling, add the quinoa and salt (1/2 tsp, 1 tsp, 1 1/2 tsp) to the water. Stir to combine and reduce heat to medium. Let boil uncovered for about 12 minutes. Drain the cooked quinoa in a strainer.
Note: This method of cooking the quinoa is ideal for this small grain Saskatchewan grown quinoa.
Prepare the asparagus: Wash and rinse all produce. While the quinoa is cooking, break off the woody end of the asparagus. Bend the asparagus spear about 2-3 cm from the end and it will break at the right spot. Cut the asparagus in 4 cm pieces. 
Cook the asparagus: On a baking sheet. place the Walleye drizzle with oil (1/4 tsp, 1/2 tsp, 3/4 tsp) and salt (1/8 tsp, 1/4 tsp, 1/2 tsp). Cook for about 9 minutes. Add the asparagus pieces to the baking sheet lined with non stick liner, drizzle with oil (1/4 tsp, 1/2 tsp, 3/4 tsp) and bake for an additional  7 minutes or until the asparagus are cooked but still crunchy and the salmon breaks apart easily with a fork. Once cooked, cut the Walleye in individual portions.
note:  Ensure the fish is cooked to a minimum internal temperature of 158F. Do not overcook the fish as it will become dry.
Prepare the vegetables:  Cut the cucumber in 2 length wide then cut each halves in 1/2 cm thick slices. Cut the radish in 1/2 cm slices. Cut the parsley in about 1 cm long pieces. 
Note: the original receipe is made with dill but it was unavailable this week and was substituted with parsley. 
Assemble: When the quinoa and the asparagus are cooked, place them in a large bowl. Add the radish, cucumber, parsley and Zesty lemon dressing. Combine with a large spoon.
Serve: On individual plates, place the salad. Garnish with a piece of Walleye and serve.
Note: this salad (not the fish) is also delicious the following day but the fish is best eaten the day you cook it.
included
2 portions
4 portions
6 portions
quinoa
walleye
aspargus
radish
sugar snap peas
mini cucumber
parsley
Zesty lemon dressing
water*
salt*
oil*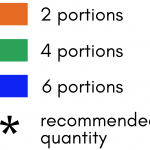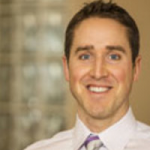 Dr. Craig Herrington, Naturopath
CUCUMBER  
Cucumbers are one of the few foods that we eat without removing the seeds. Interestingly, it is the cucumber seeds that contain a number of carotenoids and flavonoids that can help protect our heart and blood vessels. Cucumbers also have compounds called cucurbitacins that have anti-cancer effects and help manage blood sugar.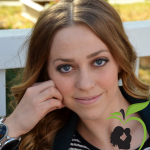 Lacey Engel, Registered Dietitian
HAVE FUN WITH FOOD 
Did you hear that crunch? Ask your little one what sounds food makes in their mouth when they bite. It's an easy and quick way to make food more fun.
RECIPE TIP 
Ask the child to try the salad with and without dressing. Some children prefer plain flavours and salad without dressing. 
MAKING THIS RECIPE WITH KIDS?
Ask the child to help by completing step 5 & 6:
– Assemble 
– Serve
BODEGAS SALENTEIN PORTILLO PINOT NOIR
On the nose fruit forward aromas of ripe cherries, strawberries and blackberries. A well-balanced, youthful palate, with soft tannins leading into a long finish.
Region: Mendoza, Argentina
Colour: Red
Alcohol: 14%
Price (SLGA): $13.47
JACKSON-TRIGGS PROPRIETORS SELECTION SAUVIGNON BLANC
The distinctive floral bouquet is complemented by notes of citrus fruit and dill. Good structure.
Region: Okanagan valley, British Columbia
Colour: White
Alcohol: 12.5%
Price (SLGA): $10.25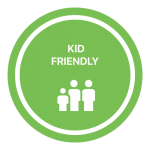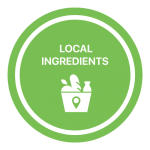 Note: We cannot guarantee any dish is allergen free. 
Weight Watchers Smart Points