Are you craving fries but want to eat healthy? This dish is the solution to your wildest loaded fries dreams and… wait for it… it's healthy! These loaded fries with cheesy broccoli taste like you are having a cheat meal but is high in protein, fibre, vitamins and is low in fat. Fill your plate with crispy oven baked fries and top them with taco turkey,dairy-free cheese sauce, sour cream, fresh tomatoes and parsley. This dish comes with a side of lightly steamed broccoli topped with dairy-free cheese sauce.
BERINGER MAIN & VINE CABERNET SAUVIGNON
Rich deep ruby colour; moderate aromas of dark berries, cassis and vanilla; flavours of juicy berry fruit, vanilla and sugarplums; dry, medium-bodied with silky tannins.
Region: Napa Valley
Colour: Red
Alcohol: 13%
Price (SLGA): $12.30
BERINGER CLASSICS WHITE ZINFANDEL MOSCATO
Aromas of raspberry, lychee, tropical fruit and floral notes.
Region: California
Colour: Rose
Alcohol: 10%
Price (SLGA): $11.24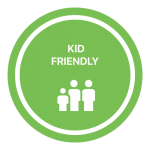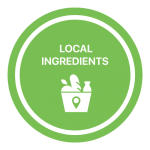 Note: We cannot guarantee any dish is allergen free.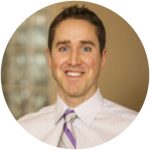 Dr. Herrington's
Health Fact
BROCCOLI 
Broccoli contains a powerful compound called sulforaphane. Recent research found that sulforaphane has the potential to slow the progression of Alzheimer's and Parkinson's disease. Multiple studies have also shown that eating cruciferous vegetables (of which Broccoli is one of), reduces the risk of breast, ovarian, and prostate cancers.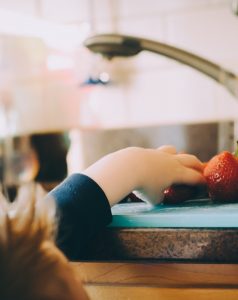 Cooking for kids?
Go easy on the taco seasoning as kids may not like it's spicy flavour.
Making this recipe with kids?
Ask the child to help by completing step 5 & 6:
Heat the dairy-free cheese sauce
Garnish & Serve
Included
2 portions
4 portions
potatoes
ground turkey
taco seasoning
broccoli
tomato
dairy free cheese sauce
sour cream
fresh parsley
oil*
salt*
pepper*
Bake the fries: Wash and rinse all produce. Turn on the oven to 400F. Line a baking sheet with a non-stick sheet or parchment paper. Peel the potatoes and cut in fries shape, about 1 cm thick. Place the fries on the baking sheet. Drizzle with oil (1/2 tsp, 1 tsp), salt (1/4 tsp, 1/8 tsp), and pepper (1 pinch, 1/8 tsp). Combine to ensure even coating and place in an even layer to ensure the potatoes cook evenly. Bake in the oven about 20 minutes or until the potatoes are fully cooked and start to become golden.
Cook the taco turkey: Heat oil (1/2 tsp, 1 tsp) in a medium pan on medium heat. Add the ground turkey and desired amount of taco seasoning*. Cook the ground turkey, stirring regularly, until fully cooked. Ensure the ground turkey is cooked to at least 165F.
*Note: the taco seasoning is spicy.
Steam the broccoli: In a pot add about 2 cm of water. Bring the water to a boil on medium heat. Add the broccoli, cover and cook for about 4-5 minutes. Once the broccoli is cooked, serve right away to ensure the broccoli stays bright green OR transfer to a strainer and run a bit of cold water over them to stop the cooking.
Prepare the garnish: Cut the tomatoes in 1 cm dice and roughly chop the parsley in about 1 cm pieces.
Heat the dairy-free cheese sauce: Place the dairy free cheese sauce in a small bowl that can go in the microwave. Heat the sauce for 30 seconds, stir and heat for an additional 30 seconds as required. Add 1 tbsp. of water if required to make the sauce thinner and stir well.
Garnish & Serve: On individual serving plates place the baked fries. Top them with taco turkey, dairy-free cheese sauce (keep some sauce for the broccoli), sour cream, diced tomatoes and parsley. Place the broccoli on the plate and top with dairy-free cheese sauce. Serve.