With fresh vegetables, herbs and fruits wrapped in rice paper, these Vietnamese inspired fresh rolls are a refreshing a quick meal for a warm day. These rolls are super easy to make and look like a rainbow with the beautiful colours of the mango, red cabbage, carrots, radish and lettuce. They are served with a side of creamy peanut sauce. If you haven't tried fresh rolls yet, get ready to fall in love 😊
ROTHSCHILD PINOT NOIR
This dry, light and fruity red displays a simple and medium nose. On the palate, its refreshing acidity, smooth tannins, and slender texture precede a medium finish.
Region: France
Colour: Red
Alcohol: 12.5%
Price (SLGA): $14.98*
ISLAND TIME SEMI SWEET RIESLING VQA
Pale lemon in color with a fragrant orchard fresh aroma and delicate citrus bouquet. A refreshing white wine with a long and slightly sweet finish that is an excellent match for a spicy stir fry or hard cheeses.
Region: Ontario
Colour: White
Alcohol: 12.0%
Price (SLGA): $15.42*
*Prices are subject to change
Note: We cannot guarantee any dish is allergen free. 
PEANUT
Research indicates regular consumption of niacin rich foods, like peanuts, provides protection against Alzheimer's disease and age-related cognitive decline.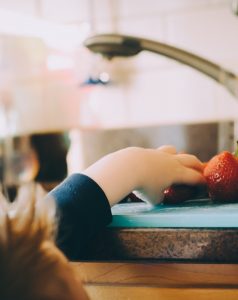 Making this recipe for kids?
Feel free to go easy or leave out the cilantro as kids may not like its flavour.
Making this recipe with kids?
Ask the child to help by completing steps 2 and 4:
Finish the vermicelli
Soften the rice paper
Included
2 portions
4 portions
rice paper
vermicelli
red cabbage
carrot
cucumber
mango
radish
mint
creamy peanut sauce
water*
Cook the vermicelli: Place the water (1 liter, 2 liters), ,in a medium pot. Bring to a boil on high heat. When the water is boiling, add the vermicelli and cook for 4 minutes.
Finish the vermicelli: Place a strainer or a colander in the sink. Place the vermicelli in the strainer or colander. Rinse the vermicelli under cold water. Drain and set aside.
Prepare the vegetables: Rinse and dry all produces. Peel and shred the carrots. Peel the mango. Cut the cucumber in julienne (the shape of a match). Cut the radish in 1/4 cm slices. Separate the mint leaves from the stem. If a leaf is very large, cut it in half. 
Soften the rice paper: In a large shallow dish (can be a skillet), place about 1 inch of warm water. Submerge a sheet of rice paper for about 10 seconds.
Note: If you let the rice paper submerged too long the rice paper will become too fragile to work with.
Once the rice paper has been submerged under water, transfer to a clean surface (can be a cutting board).
Assemble the fresh rolls: Close to the top end of the rice paper, add the vermicelli, radish, red cabbage, mango, cucumber and carrots. Fold bottom over the fillings, then gently roll over once and fold in the side to seal, then roll until completely sealed. Place on a serving plate and top with a room temperature damp towel to keep fresh. Repeat process until all the rice paper is used.
Serve the fresh roll: Serve the fresh rolls with the creamy peanut sauce. If the creamy peanut sauce feels too thick, place it in a small bowl and add 1 tsp of water at a time and combine with a fork between each addition of water until you reach the desired consistency.  Each serving counts 5 summer rolls.