This is a total mushroom lover's comfort meal: creamy spinach polenta and an herby & smoky sauté of mushrooms and onions. Pour a glass of red wine, and you're in heaven!  In the time it takes to heat up frozen lasagna, you can make a from-scratch layered polenta dish that's every bit as satisfying – if not more! This dish come with a light side of spinach salad with our signature smoky sun dried tomato dressing. Our signature  smoky balsmamic and sun-dried tomato dressing features German style Gravelbourg Mustard and OLiV Tasting Room smoked balsamic vinegar.
Alamos cabernet sauvignon
Deep, concentrated ruby; aromas of blackberry, cassis, vanilla and earth; dry, full bodied, with flavours of plush dark-skinned fruits, black currants and sweet cigar; medium acidity, ripe tannins and a long lingering finish.
Region: Argentine
Colour: Red
Alcohol: 13%
Price (SLGA): $14.89
Alamos chardonnay  
Catena Alamos delivers a nicely balanced and attractive Chardonnay with plenty of roasted nuts, pineapple and citrus atop toasted spice and hints of caramel. It has a creamy texture and a lively finish
Region: Argentina
Colour: White
Alcohol: 13%
Price (SLGA): $16.04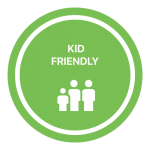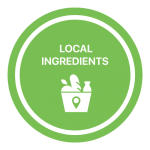 Note: We cannot guarantee any dish is allergen free. 
SPINACH
A half cup of cooked spinach contains 10% of your daily recommended value of iron. Iron facilitates the transport of iron to working muscles. This means increased energy and physical endurance
In the 1930's U.S. spinach growers credited Popeye with a 33% increase in domestic spinach consumption – a welcome boost to an industry during the depression era.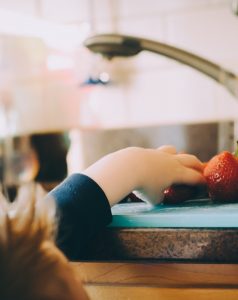 Cooking for kids?
Go easy on the smoky balsamic and sun-dried tomato dressing as kids may not be used to the flavour of balsamic vinegar.
Making this recipe with kids?
Ask the child to help by completing step 4 & 6:
Cook the polenta
Garnish & Serve
Included
4 portions
2 portions
coconut milk
onion
mushroom
thyme
garlic
cornmeal
tomato
spinach
smoky balsamic and sun-dried tomato dressing
water
salt*
pepper*
oil*
Heat the liquid for the Polenta: Place the water (2 1/4 cup, 1 cup + 2 tbsp), coconut milk, salt (1/2 tsp, 1/4 tsp) and pepper  (1/4 tsp, 1/8 tsp) in a large pot on medium heat bring to a light boil. Light boil is when small/medium bubbles just start forming and rising to the top.
Preparation: Wash and clean all produce. Slice the onion (for 2 portions use half the onion) and the mushroom in 1/2 cm slices. Minced the garlic and finely chop the thyme. 
Cook the vegetables and noodles: In a large pan or pot add heat the oil (1/2 tsp, 1/4 tsp) on medium/high heat. Add the onion, mushroom, salt  (1/2 tsp, 1/4 tsp) and  pepper  (1/4 tsp, 1/8 tsp) to the pot. Stirring regularly, cook on medium heat for about 10 minutes, until the onion is begins to caramelize. Add the garlic and thyme and cook an additional 5 minutes, stirring regularly. Add the 1/3 of the smoky balsamic and sun-dried tomato dressing and cook an additional 1 minute steering regularly.
Cook the polenta:  When the liquid is lightly boiling, on medium heat, gradually add the cornmeal whisking constantly. Continue whisking until the polenta thickens. With this fine cornmeal the polenta cooks very rapidly and requires about 1 minute of whisking.
Finish the polenta and prepare the salad: Add 1/3 of the spinach to the hot polenta and stir to wilt the spinach. Cut the tomatoes in 2 cm dices. In individual bowls, divide the rest of the spinach, garnish with the rest of the smoky balsamic and sun-dried tomato dressing and the diced tomatoes. 
Garnish & Serve: In individual bowls, place the spinach polenta and top with the stewed mushrooms. Serve with the spinach salad.